NDT INSPECTIONS
PM Industries Ltd is fully staffed and equipped to handle all of your Non-Destructive testing and Inspection requirements. Our technicians have extensive experience and understanding of large construction projects and the industrial manufacturing processes. From ship hull surveys and submarine component inspections to pressure vessel and heavy industrial manufacturing, PM NDT technicians have been involved in some of the most high profile projects in the province. Mobile Crane inspection and certification, Overhead Crane service and maintenance, NACE Certified Coating Inspections,(paint), Capacity Load Testing and Certification, PM Industries Ltd can supply the technicians and the documentation required for your project.
PM Industries Ltd is a 100% Canadian company based in Victoria. Our commitment to our clients is to provide timely, professional and accurate inspection services for very competitive prices.
Contact us for a quotation on your next inspection requirements!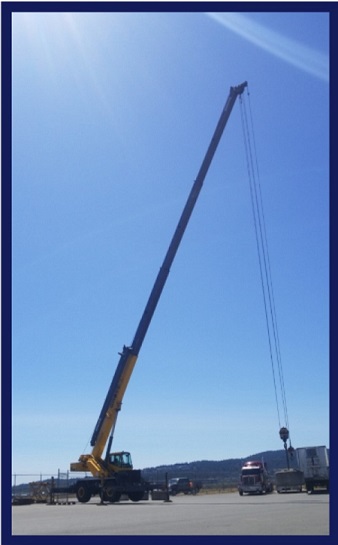 SERVICE OVERVIEW
MAGNETIC PARTICLE TESTING: Using electro-magnetic fields in the testing of ferro-magnetic materials for surface oriented defects. PM Industries Ltd has complete Lab/Darkroom facilities with a 6000Amp Horizontal Wet Bench and Penetrant Line for high production parts inspection and critical component inspections.
Related Techniques: ■ Wet Magnetic Particle ■ Fluorescent Magnetic Particle
LIQUID PENETRANT TESTING: Using low viscosity dies to penetrate surface imperfections and reveal surface oriented defects.
Related Techniques: Fluorescent Liquid Penetrant
ULTRASONIC TESTING: Using high frequency sound to identify internal variations in the structure of a material.
Related Techniques: ■ Ship Hull Thickness Survey ■ Weld Inspection ■ Shaft/Bolt Inspection ■ Plate Scans
RADIOGRAPHY: Using radioactive source to reveal internal variations in the structure of a material.
Our technicians are CGSB certified RT II, we do not offer this service at this time. Our technicians are available for film interpretation.

NACE COATING INSPECTION: Industrial Coatings Inspection is the inspection of surface preparation, paint application, dry film thickness surveys and monitoring of environmental conditions prior to and during application.
Related Techniques: ■ Project Management
Specification Writing, Holiday Testing(using an electrical conductivity meter to identify holes,(holidays), in a coatings surface
VISUAL WELD INSPECTION: Visual inspection of welding for size, location and quality in accordance with project specifications and a variety of codes.
Related Techniques: ■ Dimensional Inspections ■ Welding Parameter Monitoring ■ Welding Supervision ■ Welding Technology Consultant ■ Torque Testing ■ Hardness Testing
MOBILE CRANE INSPECTION & CERTIFICATION: Full crane structural inspection in accordance with Work Safe BC OHSR, (occupational health and safety regulations), complete with engineering certification.
Related Techniques: ■ Rigging Equipment Inspections ■ Wire Rope inspection ■ Stability Testing
OVERHEAD CRANE SERVICE, REPAIR AND INSPECTIONS: Complete inspection and service on all makes of overhead manual and electric cranes in accordance with the requirements of OEM manuals and ASME B30.10/B30.16/ B30.21.
Related Techniques: ■ Lever Blocks ■ Dock/Jetty And Shipboard Cranes ■ Vehicle Hoists
ENGINEERING: Welding procedures, crane certification, repair procedures and project supervision.
Our technicians are fully certified to: CSA W178.2 Visual Welding Inspection ■ CGSB 48.9712-2000 for Ultrasonic Testing ■ Radiographic Testing ■ Liquid Penetrant Testing ■ Magnetic Particle Testing
NACE,(National Association of Corrosion Engineers) Certified Coating Inspector
---